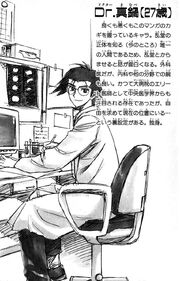 Character Overview
Edit
Dr. Manabe is the surgeon who gave Rando Masashi a new face after his old one was horrifically burned in a bus accident that left Rando in a coma for about a year. While he is a bit of a pervert when it comes to Rando in his new persona as "Yuna," Dr. Manabe is a skilled medical practictioner who also helps Rando try to find the real Yuna.
Personality
Edit
A master at surgery, Dr. Manabe is able to give detailed work to Rando in order to make him into the new girl that he is. While a bit obsessed with his patient's looks, he does really care about him and the feelings of those around him.
Relationships
Edit
Masashi Rando

Manabe is very much in love with Rando, or least with his new female persona as "Yuna." He constantly insists that "Yuna" take the final step in in his transformation and receive SRS (sex reassignment surgery). He loves to put "Yuna" into sexy costumes for his own enjoyment, much to Rando's disgust and even forces him to pretend to be his girlfriend at one point. While he does receive constant beatings from Rando, Manabe still helps him out with any problems he has. He is the one who performs physicals for the Seika High School and is also hosts the emergency clinic for any medical problems at the Kurumi home. Despite this Manabe seems to show a genuine romantic interest in Rando's persona as "Yuna." Even with his perversions Manabe ultimately does care for Rando's well-being and chooses to help him with his love for Rina. He also helps prove to the real Yuna that Rando is trustworthy.
Jinnah

Manabe often turns to Jinnah when "Yuna" needs help concealing her true identity. Jinnah produces several experimental inventions to help out Yuna, like her fake removable breasts. Jinnah and Manabe seem to be close friends, complementing each other on their respective skills.
Natsuo Kobayashi

While at first Dr. Manabe tries to lie to Natsuo when "Yuna" accidentally reveals herself as Rando, Manabe now keeps her informed about "Yuna's" progress and struggles.
Yuna Kurumi

While Yuna was at first angry when finding out she had been replaced by Rando, she eventually learns that he was a trustworthy individual. Yuna and Manabe decide to test Rando's worth as a man by giving Rando a fake facial surgery giving him his old face back. Yuna then insists that Rando change back into "Yuna" so Rina will remain happy when the real Yuna goes back to beauty school.